Пакети с продукта
Цена
Цена на продуктите:
670,35 €
Цена
Цена на продуктите:
1 064,35 €
Цена
Цена на продуктите:
1 235,35 €
Цена на пакета:
1 100,00 €
HE20, 2 pin plug (female) , 2 pin socket(male),cable connector, Car power charging connector 2 pin, Waterproof dustproof
This one is LCD display for electric scooter, electric bicycle, foldingbike, balance bike, electric motorcycle, tricycle , MTB with lithium battery and motor , pedal motorcycle and so on.takes phase voltage signal, universal and simple for install, and shell is waterproof.
deafault setting it is km/h speed, if need mile/h, please leave message ,
blue screen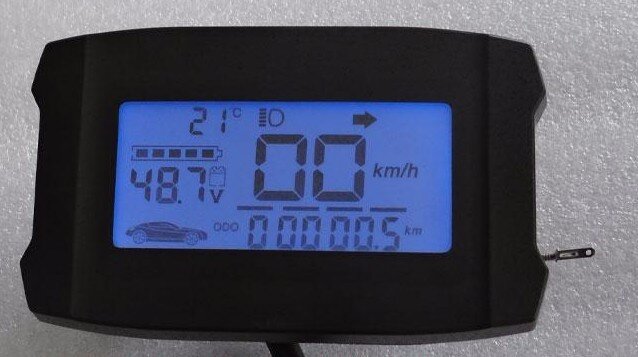 for 96v blue background screen, voltage and speed can all be over 100.
white background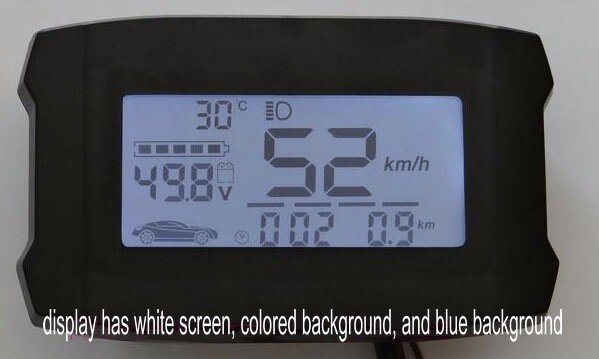 ​default setting WIRING /about install of this display,
RED-power POSITIVE
black/green-power negative
blue-frontlight
purple-speed , phase speed testing.
orange -left turning signal
light blue-right turning signal
(yellow single wire-- hallsensor signal, phase wire or hallsensor signal u can only choose one)
two long black wires--voltage choosing, connected is higher voltage, unconected is lower voltage,
see this location and sequence. if yours are different can try to change by using a thin iron stick.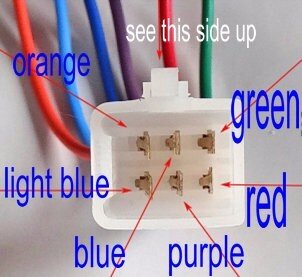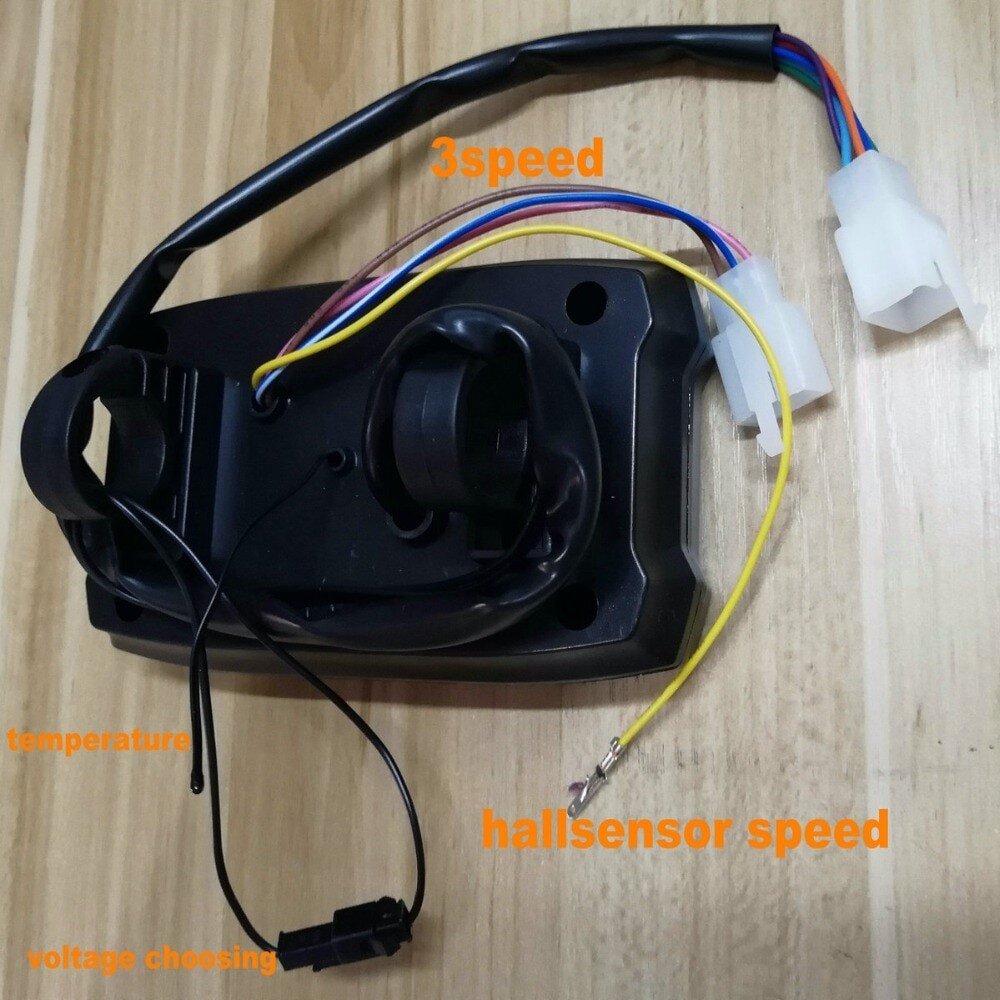 3 speed wires need made to order, default setting no this,
now it is all new shell for colored model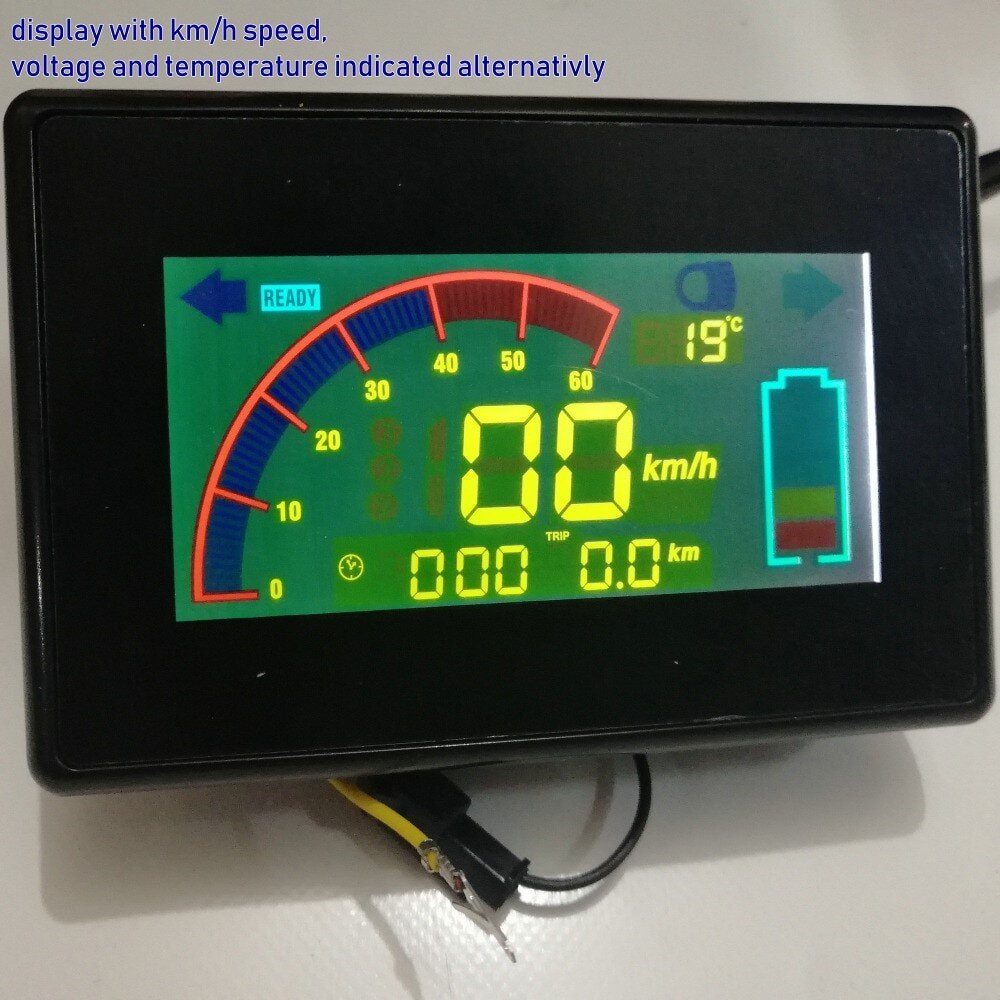 how to connect the purple speed wire
ways 1. connect speed wire of display with speed wire of your controller
with your motor or controller phase wire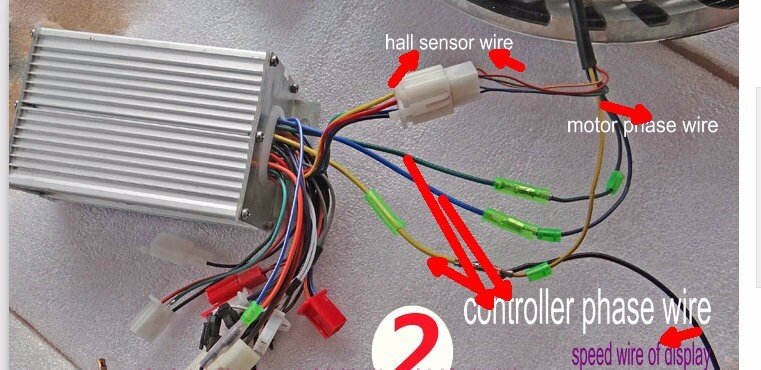 please connect and match your controller with your motor phase wire first, then connect the purple speed wire of this display with controller phase wire,
with your controller or motor hall sensor wire
use a speedtest sensor, connect it with speed test sensor and then connect speed sensor with your controller.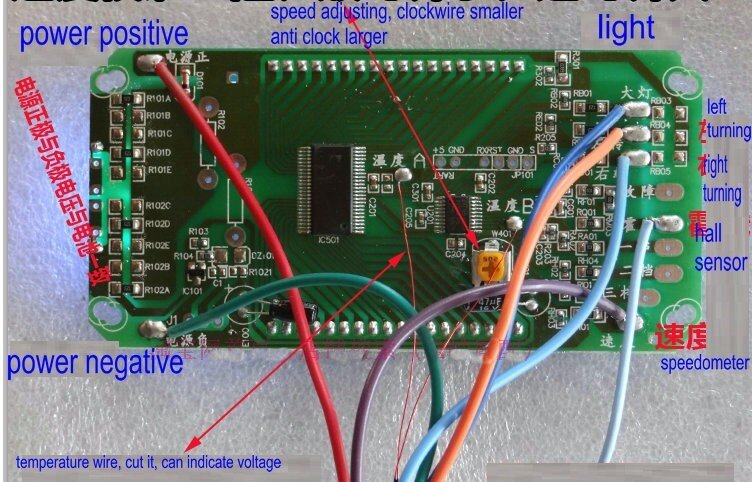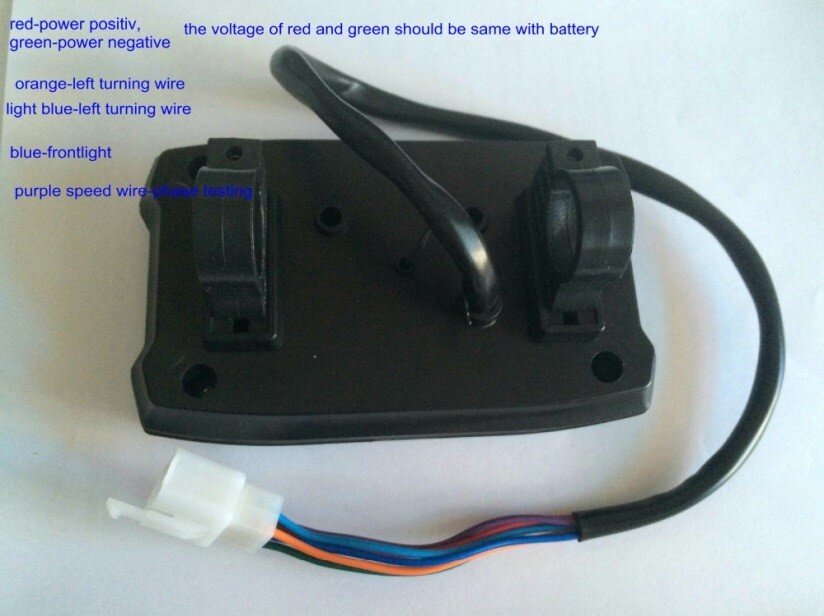 remaks: 1 usually for vehicle that is mechanical speed/ no speed/ no gear/ controller has only one speedometer wire, we takes phase wire connection.
2, if your old bike has no speed wire, can pull one from display and connect with controller.
for vehicle that is 3speed, ... you need to change to hall sensor speed tesing
you can not use both of them.
if any of this ways will not work,
--if your motor has no hall sensor and if phase wire will not work, please you can also add a speed sensor on controller and connect the display to speed sensor.