Пакети с продукта
Цена
Цена на продуктите:
670,35 €
Цена
Цена на продуктите:
3 235,09 €
Цена на пакета:
2 899,00 €
QS 1000W 35H V1 205 E-spoke Hub
Power Range optional:
- 1000W 35H V1
- 1000W 35H V2 (For this type motor, we will open new mould in the near future.)
Drop-outs optional:
- 135mm dropouts for 3 speed freewheel rear wheel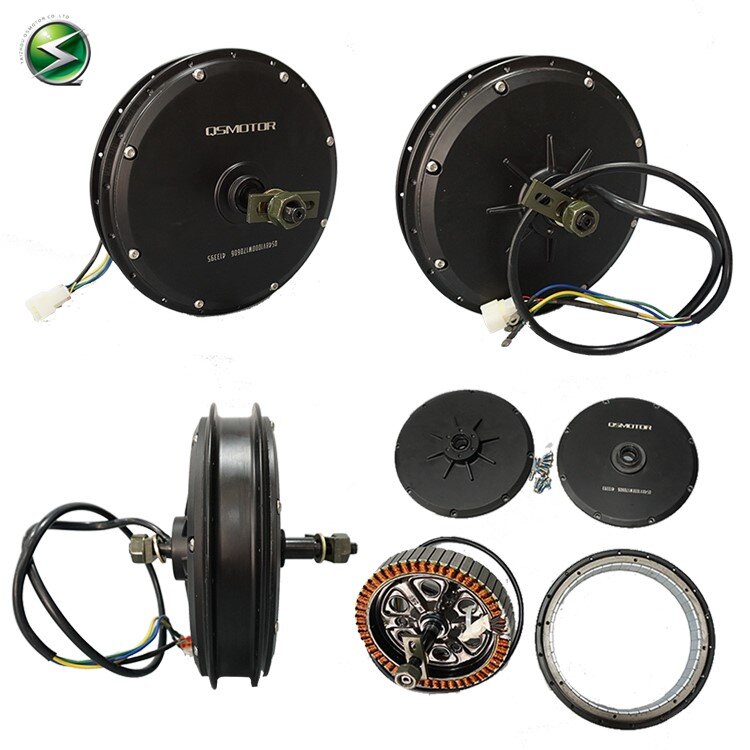 QS Motor Specification
Motor Type: BLDC Permanent Magnet Outer Rotor In-Wheel Hub Motor With Hall Sensor
Brand: QS Motor,QSMOTOR
Motor Design: Double axle without rim (not integrated), 36 spoke holes, OD 3.4mm
Matching Rim size: 24inch, 26inch E-Bike Wheel, 17inch, 18inch, 19inch moped wheel.
Magnet Height: 35mm, 23 pole pairs
Stator: Steel Core
Rated Power: 1000W (2000W peak in few seconds)
Rated Voltage: 48V as default (support48V-72V)
Speed:48V 500RPM Final speed depends on wheel size
kV: 10.4
Max Torque: approx 100N.m
Max Efficiency: above 87.3%
Continuous Battery Current: 20.8A (60V)
Peak Battery Current: 41.5A (60V)
Suggest Peak Phase Current: 89-112A (depend on the kV)
Thermic Probe: KTY83/122 (as default, optional)
Working Temperature: 70-120℃ , peak 150 ℃
Brake type: Disc Brake, PCD6*44mm for bicycle
Drop-outs/Rear Fork Width for installation: 135mm
37.5mm english thread length for 3 speed freewheel
10mm axle flats
One Hall Set with waterproof connectors
3mm² Cross Section of Phase Wire (not include insulation layer)
Hall Sensor Phasing angle: 120 degree
Waterproof Grade: IP54
Color: Black (as default)
N.W./G.W.: 8.04kg/9.45kg
Package Dimension: 34cm*34cm*33cm/piece
More winding for choose, sample order only support 6T winding, if you want to try other data, MOQ order should be 50pcs.
Advantage
Add Thermic Probe to protect motor from overheating.
0.35 laminations for better efficiency (instead of 0.5mm).
Improve paiting quality to avoid scratch.
Change new security Torx screw, for CE certification (not cut someone when touch it).
Optimizing structural design
QS Motor VS Crystalyte Motor
Suggest setting,
48V 52A battery current, 112A Phase Current
60V 41.7A battery Current, 112A Phase Current
72V 34.7A battery Current, 112A Phase Current
Suggestion (Setting of Controller)
When it's 130 ℃ inside of motor (in 30s), the current should be limited 50%.
When it's 150 ℃, the controller shut down. When it drop down to 110℃, the controller work again.