Пакети с продукта
Цена
Цена на продуктите:
1 235,35 €
Цена на пакета:
1 100,00 €
Цена
Цена на продуктите:
4 509,49 €
Цена на пакета:
4 299,00 €
QS Sabvoton SVMC60080 Controller
Generally SPEC

1). sine wave controller, programmable, with regen function

2). DC Current Limit: 80A

3). Max. Phase Current: 200A

4). Protect Phase Current: 250A

5). Battery Voltage: 24V-60V rated, Max. 85V

6). Thermic Probe: KTY83-122

7). Including one controller + USB convertor cable + matched plug

8). controller size: 247mm*146mm*62.5mm

9). Net weight: 2.12kg

10). Default including bluetooth adapter.

11). Default function: Hall, Throttle, Electric Lock, High Brake Level, Temp sensor, 0-5v e-brake, three speed switch, Hall speedometer.

12). Special functions: Reverse, Cruise, Three speed Button, Waterproof, Anti-theft

Notes:

1).We have updated the 0-5v e-brake function.

Old: it should be press the brake switch then can achieve 0-5v e-brake funtion.

Update: you can achieve 0-5v e-brake function without press the brake switch.

2). For no lock type controller, there is warranty service, but we could offer our suggestions for you.

3). CA function not support anymore. You could customize the controller according to our drawing.

4). Pls. make sure all the connection is correct before power on.

Sabvoton Controller Software Interface

Here are the clear and easy adjustment software interface. Bluetooth adapter are optional, if you want to add it, pls. refer to this link: https://www.aliexpress.com/store/product/Sabvoton-Controller-Bluetooth-Adapter/1389549_32812220533.html?spm=2114.12010612.0.0.jR3o8r

Sabvoton SVMC controller drawing

Here is drawing of Sabvoton SVMC controller, 247mm*146mm*62.5mm

Pin Definition

This is drawing of SVMC controller, you could refer it to make connection and customize CA function if you want to match it with your CA display.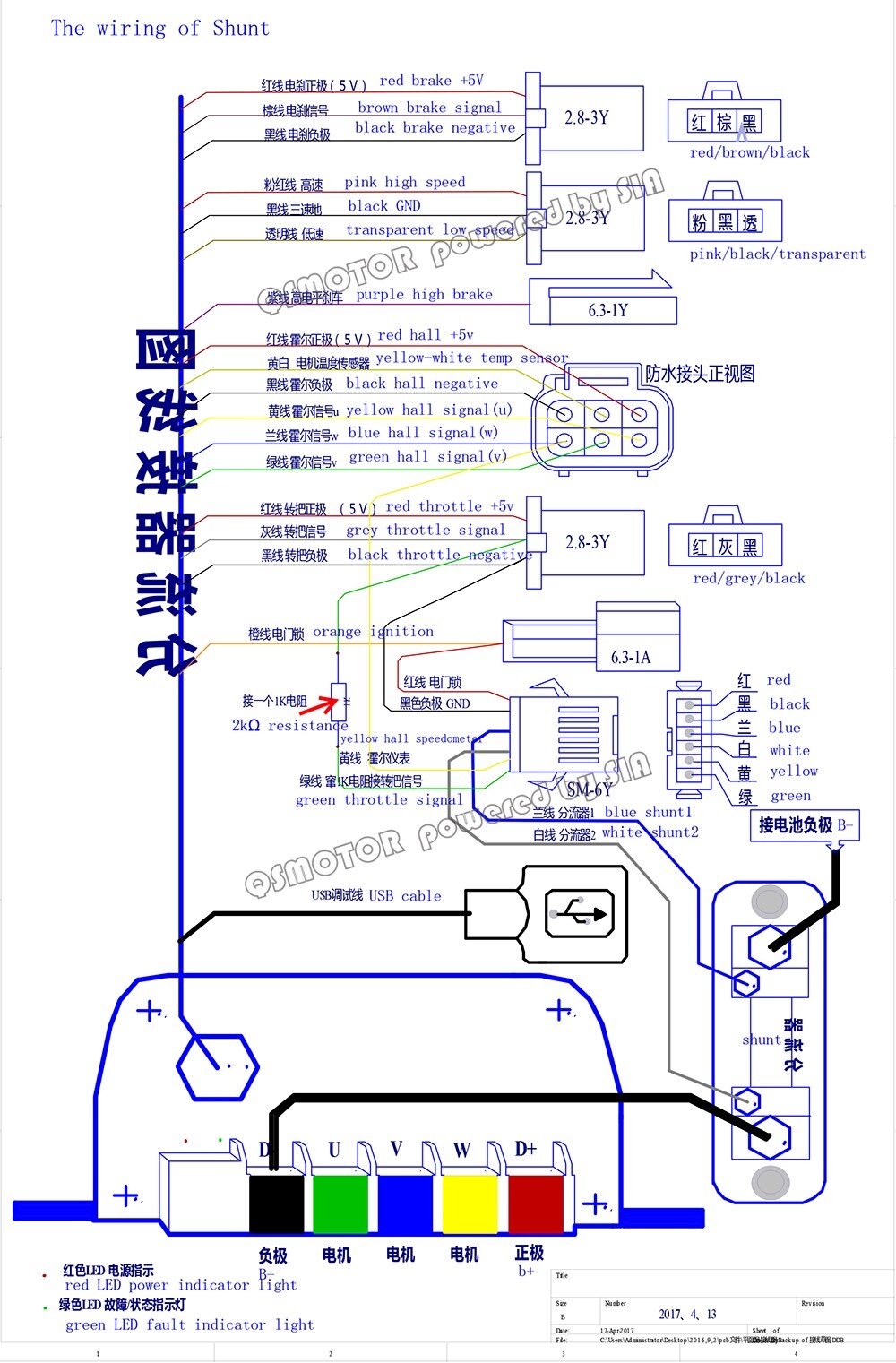 0-5v e-brake Pin Definition
Red: brake +5v
Brown: brake signal
Black: brake negative
Three Speed Pin Definition
Pink: high speed
Black: GND
Transparent: low speed
High brake Pin Definition
Purple: high brake
Hall Pin Definition
Red: Hall +5v
Yellow-white: temp sensor
Black: Hall negative
Yellow: Hall signal(U)
Blue: Hall signal(W)
Green: Hall signal(V)
Ignition Definition
Orange: Ignition
Hall speedometer Definition
Dark blue: Hall speedometer
Notes:
All RTN pins are internally connected.
Meter function is to copy either of hall sensors.
Above pin definition is for classical type controller.
Pls. contact with sales first if you don't know how to connect the controller with motor and other parts